Jio 4G Preview with 90 days unlimited data now officially available for Asus and Panasonic smartphones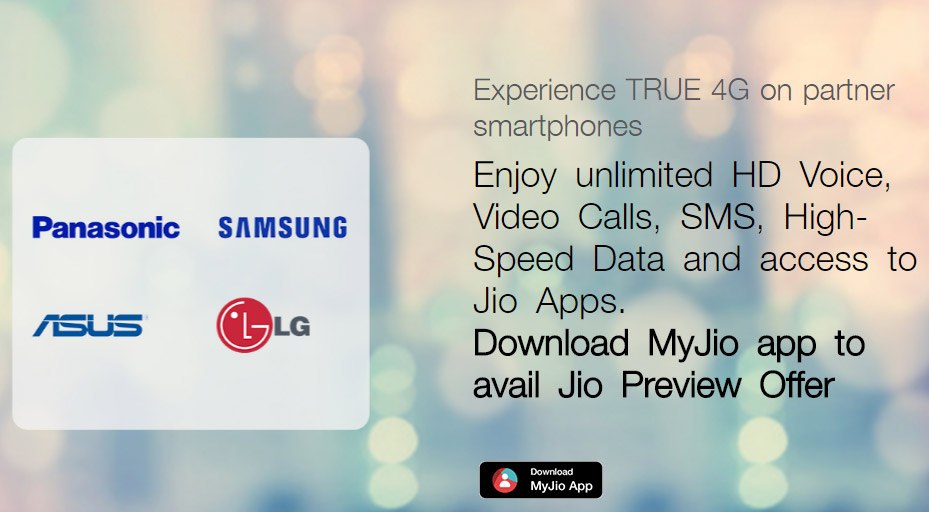 Reliance is expanding its Jio user base. After extending Jio 4G Preview offer to Samsung and LG smartphones, the company has just added Asus and Panasonic to the list as well. Which means if you have an Asus Zenfone or Panasonic Eluga 4G smartphone, you can get 90 days free unlimited data, calls and messages with a JIO SIM Card.
All you need to do is install the My Jio app on your smartphone, tap on Get Jio SIM and follow instructions to generate a code. Then go a nearby Reliance Digital or Digital Xpress Mini store with a photocopy of your ID with address and a passport size photograph to get your new Jio 4G SIM card. Its that easy. But you may have to stand in a queue given the huge demand.
Here are all the Asus Zenfone 4G smartphones eligible for the offer:
ZenFone 2 Laser (ZE550KL)

Zenfone 2 (ZE551ML)

Zenfone Max (ZC550KL)

Zenfone 2 Laser 5.0 (ZE500KL)

Zenfone 2 (ZE550ML)

Zenfone Selfie( ZD551KL)

Zenfone 2 Laser (ZE601KL)

Zenfone Zoom(ZX551ML)

Zenfone Go 5.0 LTE (T500)

Zenfone 3 (ZE552KL)

Zenfone 3 Laser (ZC551KL)

Zenfone 3 (ZE520KL)

Zenfone 3 (ZS570KL)

Zenfone 3 (ZU680KL)
These are the Panasonic devices which can get the Jio Preview offer:
ELUGA L

ELUGA Switch

ELUGA Icon

T45

ELUGA I2 ( 1GB )

ELUGA L2

ELUGA Mark

ELUGA Turbo

ELUGA Arc

ELUGA I2 2GB

ELUGA I2 3GB

ELUGA I3

ELUGA Icon 2

ELUGA A2

ELUGA Note

P55 Novo 4G

ELUGA Arc 2

P77
All new and existing customers with the above mentioned devices can claim a free Jio 4G SIM card. Now, although Reliance never officially confirmed it, Jio SIM cards were being offered to anyone with a 4G smartphone in various regions, we also got one for the OnePlus 3. But it seems it is restricted to some stores and regions at present. There is no word on when Jio will be rolled out to the public but till then its great that the company is extending the Preview offer to more devices.
Source: Jio